K12 Tech Lab:
Experienced professionals providing dedicated support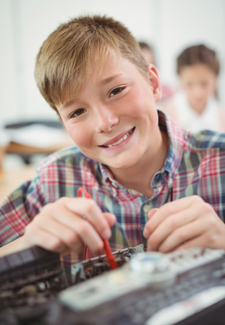 ESS has been in the repair services business for over 30 years. We have helped build some of this country's largest retail repair depots. We have seen so much change in technology over the years and we are excited to see a younger generation of students interested in this industry.
Many electronics devices that were made 10-years ago were made so inexpensively that they were not worth repairing. This new age of smartphones and tablets has really brought the repair industry back into focus. With schools now taking a lot of this technology into the classroom, it makes sense that students are increasingly interested in how these devices work.
Our K12 Tech Lab support services include:
Parts procurement

Online repair manuals

Repair tool kits

Repair services - if needed for higher level repairs
All parts purchased under the K12 Tech Lab come with a 1-year warranty and free shipping.
If you would like to have a trusted partner involved in your schools K12 Tech Lab give ESS a call. We would be delighted to help this new generation of repair technicians.
Let's get started. Where can we be of service to you?